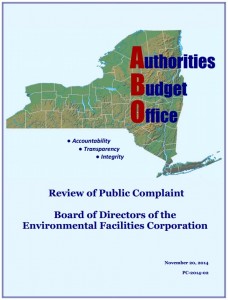 With the recent release of the New York State Thruway Authority's proposed budget, which includes a funding deficit of $305 million and $922 million in borrowing for the Tappan Zee replacement project, this is as good a time as any to revisit last month's report detailing concerns about the approval of the Clean Water Funds loan to the Thruway Authority.
Public authorities like the New York State Thruway Authority or the Metropolitan Transportation Authority should be familiar to regular MTR readers, but readers may be surprised to know that there are 45 state public authorities, not to mention the even more numerous local public authorities, industrial development agencies and local development corporations. As Assemblyman Richard Brodsky said in 2009, "The lives of New Yorkers are impacted by the operations of state authorities to an infinitely greater extent than they are by the departments of state government"—yet little is known about what they do or how they operate. Brodsky made that statement in support of legislation he sponsored that year that instituted a new fiduciary duty for authority board members and also created the Authorities Budget Office (ABO).
One of the many authorities, is the Environmental Facilities Corporation (EFC) which, with the Department of Environmental Conservation, jointly administers the Clean Water State Revolving Fund, a fund that provides low-interest rate financing to municipalities to construct water quality protection projects such as sewers and wastewater treatment facilities. Although those purposes have no relation to bridge construction, on June 16, Governor Cuomo announced the EFC had decided to make $511.45 million in "low-cost" loans to the Thruway Authority for the New NY Bridge project. The problem with this announcement is that the EFC Board had not yet acted on the loans, but rather met ten days later, officially voting on the $511 million loans on June 26. But this official decision was ten days after the Governor's announcement, creating a timing problem for the Board's decision.
This problem, as well as other red flags, led several organizations, including Tri-State, to request an ABO investigation of the loan process. The results of the investigation were released last week, in which the ABO found:
Instances where the EFC Board's actions did not meet the standards required by the state's fiduciary duty law;
The EFC Board did not comply with Open Meetings Law requirements; of particular concern was the Board's unwarranted use of executive sessions under Section 105 of that law; and
The EFC Board failed to ensure that the EFC complied with 40 CFR 35.3150 when it did not question why the project was added to the Intended Use Plan (IUP) on June 11, 2014 and why the public was denied a comment period.