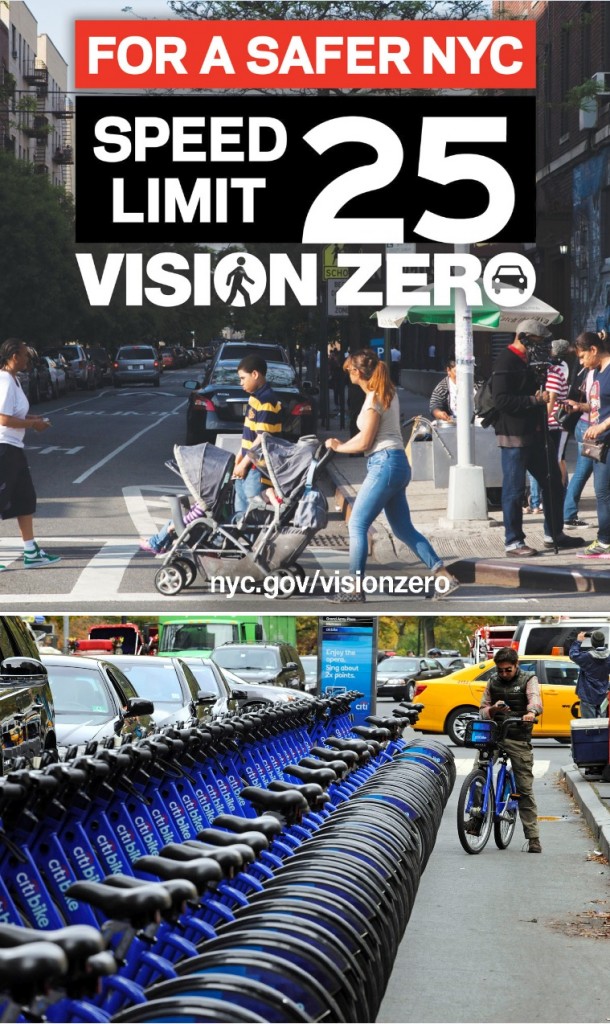 After a solid finale in 2013 from the Bloomberg/Sadik-Kahn administration, it was unclear how progress on safer streets in New York City would fare. Right out of the gate, Mayor Bill de Blasio dispelled doubts with bold moves for a "Vision Zero," and the positive culture change on roads appeared to spill over to statewide efforts. Advocates were able to secure more money for pedestrian and bicycling infrastructure across the state, and several new cities were able to add traffic enforcement camera programs to their toolbox. Alas, sadly, there were setbacks as well.
But setbacks aside, overall it was a good year for advocates and their issues. Casinos and fracking were put in their rightful places, a solid plan for transit for the New NY Bridge was released with a $20 million commitment from the governor, and on the horizon, more and more voices are calling for the $5 billion bank windfall to flow towards transportation infrastructure.
Perhaps the biggest loser of 2014 was the public. Over and over, they were shut out of the decision-making process on how their tax dollars are being spent—especially with regard to the Port Authority and the New NY Bridge. The dark clouds of infrastructure funding and spending loom large in 2015, with massive deferred maintenance and unfunded capital programs, leaving everyone nervous about what's to come.
The Good
Cities Get Bold About Street Safety — The first year of New York City's Vision Zero program was a bit rocky at times, but overall an enormous achievement for a city where a growing population puts increasing pressure on limited shared space. The City Council passed an unprecedented number of streets safety bills, lowered the speed limit to 25 miles per hour, and implemented a speed camera program. But this energy was not solely limited to the City. The number of statewide red light camera programs grew significantly, and Albany's program commits all excess revenue to a Traffic Safety Fund for the city. Suffolk County legislators approved dedicated funding for implementing the county's landmark Complete Streets policy.
Mass transit plan for new Tappan Zee Bridge proposed — After a year of meetings, the Tappan Zee Bridge Mass Transit Task Force proposed seven new bus routes in a new branded, modern, efficient bus system serving Rockland and Westchester Counties. The state wisely applied for (though unfortunately didn't receive) TIGER funds to implement the Task Force recommendations for transit along the I-287 corridor.