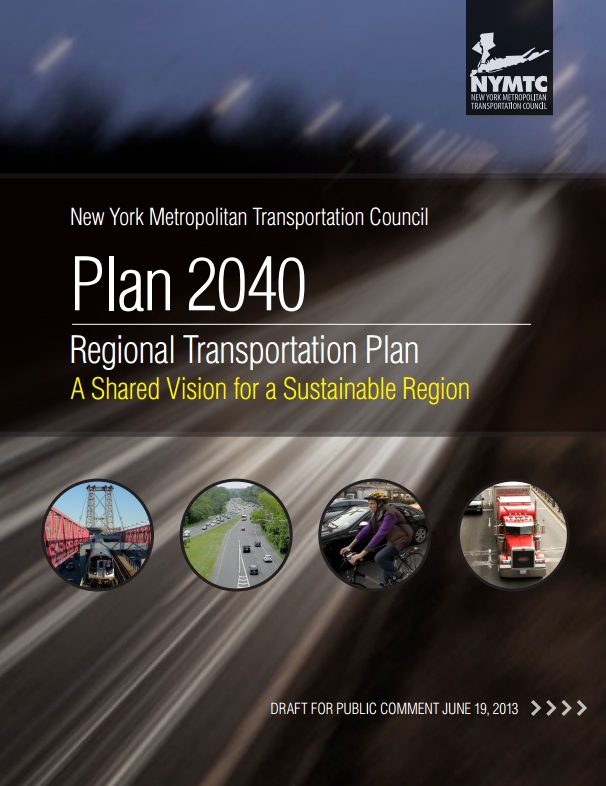 Public comment on the New York Metropolitan Transportation Council's (NYMTC) latest regional transportation plan (RTP), Plan 2040:  A Shared Vision for a Sustainable Region, wrapped up last week and TSTC submitted extensive comments on NYMTC's vision for the future. While the plan covers a lot of territory, there are a few areas where it's lacking.
VMT Reduction
The most glaring problem with NYMTC's Plan 2040 is that it does not include reducing vehicle miles traveled (VMT), and overestimates VMT growth in the next 25 years. The plan projects 12 percent increases in daily VMT by 2040, far too high an estimate given recent driving trends. A 2013 Victoria Policy Institute (VPI) report found not only that US car ownership per capita plateaued beginning in 2000 and has declined since 2005, but also that VMT growth leveled off in 2000, began to decline in 2007, and by 2010, remained significantly below the trend line.
At the same time, Plan 2040 underestimates the future growth of transit ridership in the region, which it predicts will grow by just 20 percent. VPI found that transit ridership in the United States grew by 34 percent from 1995 to 2011, roughly double the growth in population. With both millennials and baby boomers driving less and opting to live in walkable, transit-oriented communities, 20 percent growth seems far too low.
Transit-Oriented Development (TOD)
Plan 2040 recognizes that connecting smart land use policies to smart transportation investment is integral to the economic competitiveness, environmental health and quality of life of the region. Plan 2040 should go a step further and call for the creation of a Transit Village Planning and Capital program, similar to New Jersey's successful program, that helps municipalities plan and build TOD.