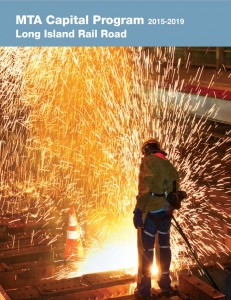 With 83 million passengers a year, the Long Island Rail Road is the busiest commuter railroad in the nation and the economic engine for Long Island. It is also the nation's oldest commuter rail system, and as such, the MTA's proposed 2015-2019 Capital Program allocates nearly 10 percent of total expenditures to the system with a focus on better maintenance of core infrastructure to create a more resilient system
More than 60 percent of the proposed LIRR allocation will go to maintaining the basics—rolling stock, stations, track, communications/signals, power, shops and yards, bridges and viaducts—but the plan also targets service improvements that will get the system ready for its new access point in Manhattan: Grand Central Terminal.
At the moment, Penn Station is the only Manhattan stop for LIRR, and the station is at capacity during crucial points of the day. The completion of East Side Access will provide a much-needed second access point into Grand Central Terminal, enabling increased service opportunities and system redundancy. To get ready for that future day, the Capital Program proposes expanding capacity at Jamaica, a critical transfer station, and adding train storage and track capacity at key locations.