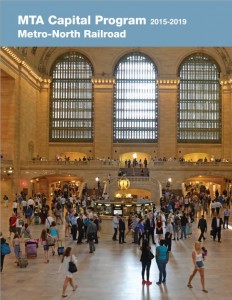 More than 275,000 daily commuters on Metro-North received good news in the MTA's newly-released 2015-2019 Capital Program: the agency is moving forward with Penn Station Access, a $743 million project which has spent decades on the drafting table. Benefits of Penn Station Access include:
a one-seat ride with substantially reduced travel times to Manhattan's west side for New Haven Line customers
expanded job access for Manhattan's growing west side and more options for New York's growing population of reverse commuters
improved capacity and tri-state connectivity, improving links between Metro-North, LIRR, New Jersey Transit and Amtrak
cost-effective use of existing tracks, and no new tunnels
four new stations in under-served Bronx neighborhoods expanding transit options and economic and residential development near Co-op City, Morris Park, Parkchester and Hunts Point
This new service can't begin until after completion of the $10.2 billion East Side Access, which will free up track space at Penn Station. Once complete, it will alleviate congestion at Mott Haven Junction, a system bottleneck where the Hudson, Harlem, and New Haven Lines all converge.
And in addition to service enhancements, the project will also bolster the transportation system's resiliency for extreme weather events like Superstorm Sandy. Mott Haven Junction, for example, is particularly prone to flooding so increasing redundancy between Manhattan and points north a key fix that can't be built soon enough.