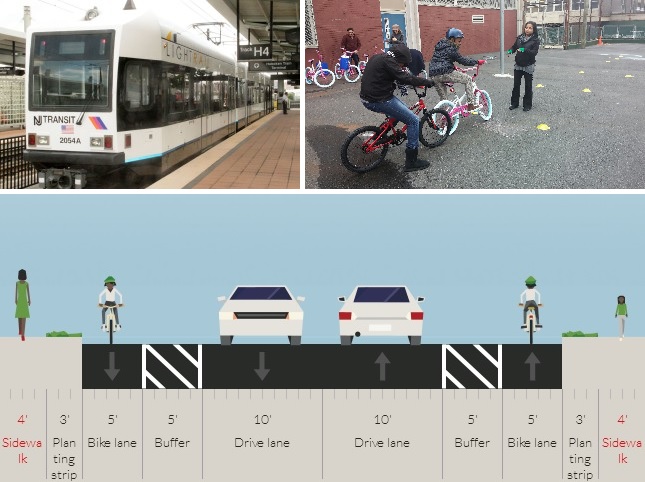 Transportation was quite possibly the hottest topic in New Jersey in 2014, seeing major highs, major lows and everything in between. Momentum for improving bicycle and pedestrian safety continued with the passage of new Complete Streets policies, bike accommodations along the rebuild of Route 35 in Ocean County, and new support for the Circuit trail network. Legislative leadership finally started realistic conversations about addressing the transportation funding crisis.
But for just about every step forward, there was another step back. Before the paint was even dry, Newark suspended enforcement of newly-installed protected bike lanes, critical safety legislation appears to be indefinitely stalled in the Senate, and the red light camera pilot program ended. Port Authority reform in particular turned out to be a robust source of lows, including blocked transparency efforts and misguided capital programming priorities.
But by far the biggest fail for New Jersey in 2014 was the fact that the state's looming transportation financing crisis remains unresolved with less than six months left until the Transportation Trust Fund runs dry.
The Good
"Everything is on the table." — The grave state of the Transportation Trust Fund generated a deluge of attention towards restoring solvency to the TTF.  A total of five special hearings were held by the Senate and Assembly Transportation Committees on the state of transportation funding, resulting in a number of solutions "on the table." Transportation leadership in New Jersey— including NJDOT Commissioner Fox, Speaker Prieto, Assemblyman Wisniewski and Senator Lesniak—was boldly vocal about the need for an increase in the state gas tax, which has not been increased since 1988 and is the second lowest in the country.
Complete Streets progress continues — The Garden State continues to lead the tri-state region with 14 new Complete Street policies added in 2014 as of October, bringing the total number of policies to seven counties and 111 municipalities.
Bicycle network grows — The Circuit received $8.6 million in funding to support the continuation of the 750-mile regional trail network, 300 miles of which are now open for use with 50 more underway. Once complete, more than half of the Camden-South Jersey-Great Philadelphia region's population will live within a mile of the Circuit. Also in 2014, Tri-State, along with NJ Bike & Walk Coalition and Bicycle Coalition of Greater Philadelphia, launched an all-out campaign to ensure that the 12.5-mile,eight-municipality rebuild of Route 35 in Ocean County served as national model for implementation of Complete Streets. On April 1, the New Jersey Department of Transportation revealed revised plans which now include ten miles of bike infrastructure.