With CTfastrak and the New Haven-Hartford-Springfield Rail projects set to open in 2015 and 2016, respectively, discussion about future development in the area is ramping up.  Recently, the Capitol Region Council of Governments, the Pioneer Valley Planning Commission and the Sustainable Knowledge Corridor Consortium commissioned a report detailing Transit Oriented Development (TOD) opportunities around these bus and train transit stations.
The report, titled Making it Happen: Opportunities and Strategies for Transit-Oriented Development in the Knowledge Corridor, analyzes which station areas on those future lines are most ready for development and what needs to be done to further encourage development at others.
The need for responsible strategies to deal with future development couldn't be clearer. The area to be served by these future systems, also known as the "Knowledge Corridor", is a large and long-interconnected area with a population of 1.8 million, more than 45,000 companies, a labor force of 1.1 million people, 32 colleges and universities and more than 120,000 students.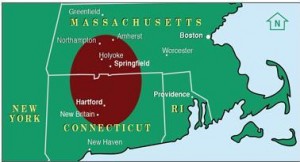 [Source: New England's Sustainable Knowledge Corridor]
This density of people and employers, especially schools and students, provides a great opportunity to utilize transit as rapid and reliable means of transportation to enhance the economy.
[Source: Making it Happen: Opportunities and Strategies for Transit-Oriented Development in the Knowledge Corridor, Executive Summary, September 2013.]