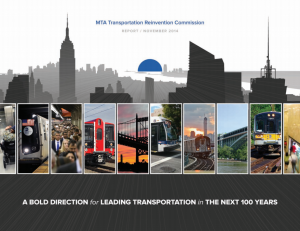 Just in time to feast on before the Thanksgiving holiday, the final report of the Metropolitan Transportation Authority Transportation Reinvention Commission was released today, identifying seven key strategies to help the agency plan, prepare for and fund the next 100 years of transit investments.
While various outlets will focus on the funding, customer service and project delivery overhauls, there are key recommendations that acknowledge the interconnectedness of the MTA with transit systems and facilities in the tri-state region, a region where transit agencies and authorities operate independently of one another other—often in a vacuum. Given Tri-State's regional role and our seat at the Reinvention Commission roundtable, we've highlighted the recommendations from the report that have implications for all beneficiaries of the MTA's bus, subway and rail systems in the agency's three state service territory:
Prioritize new fare media to facilitate seamless travel across the region. [Strategy Three, p.37]
With commuters from all three states using multiple transportation modes and systems, integrating fare media across various agencies—MTA, NJ Transit, PATH, NICE, Bee-Line, Tappan Zee Express, etc.—would provide seamless connectivity and ease of transfer.
Increase connectivity between MTA and other regional transportation providers. [Strategy Four, p. 42]
The MTA network operates in a region with other transit agencies and facilities, yet transit planning is often siloed within state and agency jurisdictions. This often leads to fractured approaches to transit needs that impact more than one agency (e.g. capacity/infrastructure constraints at Penn Station; outdated Trans-Hudson tunnels, terminals and tracks)