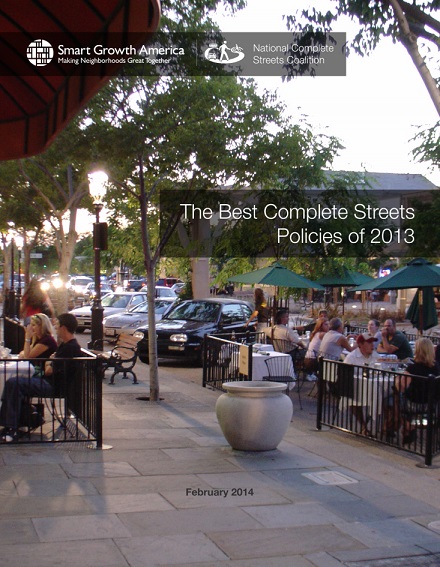 Smart Growth America released its Best Complete Streets Policies of 2013 report last month. The report ranks each Complete Streets policy enacted in 2013 using a system that measures ten ideal elements of a Complete Streets policy and scores each policy based on those ideals.
While there weren't any policies from the tri-state region in this year's top 10 (Trenton was #8 in 2012), both New York and New Jersey have achievements worth mentioning. New Jersey saw the greatest addition of policies in 2013 with 17 new Complete Streets policies adopted (California was #2 with 14 new policies), and the Garden State is ranked #2 nationwide with 78 policies (behind only Michigan, which has 79). The New Jersey Department of Transportaion also had the highest-ranked state internal policy in the nation.
In addition, several Complete Streets policies in New Jersey and New York scored above the median score of 60 (out of 100):
New Jersey
Lawrence  (79.2)
Trenton*  (78.4)
Linden*  (74.4)
Camden*  (74.4)
Metuchen  (72.8)
Chatham  (70.4)
Woodbridge  (63.2)
Cranford*  (60)
Netcong  (60)
New York
Part of the reason New Jersey is so well represented in the rankings is because of NJDOT's promotion of Complete Streets adoption and implementation. NJDOT provides an incentive point on Municipal Aid grant applications to those municipalities that have passed Complete Streets policies. The department also offers a Complete Streets guide to policy development and an implementation guidebook.