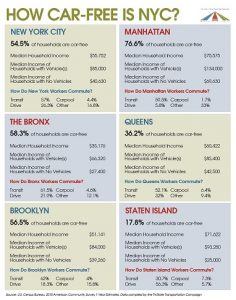 Just in time for New York City's second annual Car-Free Day, Tri-State Transportation Campaign has released a new fact sheet on car ownership in the five boroughs: How Car-Free Is NYC?
Using U.S. Census Bureau data (2015 American Community Survey 1-Year Estimates), "How Car-Free Is NYC?" presents not only the share of zero-car households in the city and in each of the five boroughs, but also includes journey to work and median household income data. "How Car-Free Is NYC?" is an update on the New York City borough fact sheets which TSTC published a decade ago to strengthen the case for congestion pricing.
A few highlights:
54.5 percent of New York City households are car-free.
Manhattan households are the most likely to not own any vehicles — the borough is 76.6 percent car-free.
Staten Island households are most likely to own at least one vehicle — 17.8 percent of households own no cars.
Brooklyn (56.5 percent car-free) is most like the city as a whole in terms of percentage of zero-car households.
In New York City, car-free households earn 52 percent less than households with vehicles. The difference is most pronounced on Staten Island, where car-free households earn 73 percent less than households with cars.
In the Bronx, Brooklyn, Manhattan and Queens, the majority of workers commute via transit. Staten Island is the only borough where a majority of commuters (56.3 percent) drive to work.
Across the board, median incomes of zero-car households are lower than overall median incomes, while median incomes of households with vehicles are higher than overall median incomes in all five boroughs and across the city.
Only Manhattan's car-free households earn more ($69,360) than the city's median household income ($55,752).
Car ownership is on the rise: all five boroughs have slightly smaller percentages of car-free households than in the 2007 congestion pricing fact sheets (which used 2000 census data).