Back in 2009, Tri-State pointed out that the New Jersey Transit was alone among the nation's bigger transit agencies in not having dedicated funding sources for its operating needs. Here we are seven years later, and not much has changed.
This unfortunate reality has received newfound attention since a special hearing of the state's Joint Legislative Oversight Committee last week where we detailed the unique method in which NJT pays to operate its buses and trains.
Here's how NJ Transit stacked up against peer transit agencies in 2009:
And again five years later:

Lacking dedicated funding, NJ Transit — the nation's third largest provider of public transportation — relies on the politically-driven annual budget process to fill its operating coffers. Unfortunately, what the state is willing to invest consistently falls short of meeting the agency's needs. With an ever dwindling direct state subsidy, NJ Transit relies heavily on passenger fares to fill in the gaps.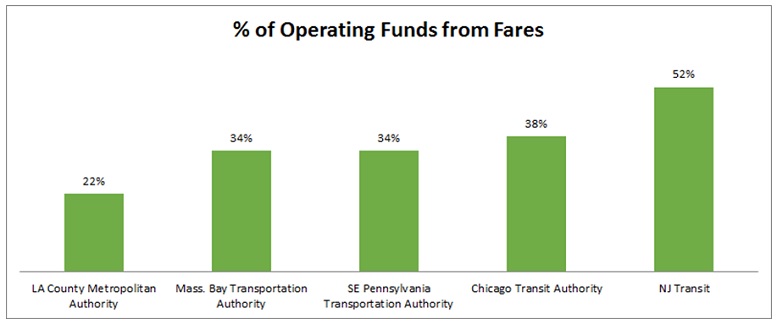 Passengers carry the heaviest of burdens when it comes to NJ Transit's operating budget. It's no wonder riders have seen five fare hikes since 2000 (including a record 22 percent hike in 2010), pay the highest commuter rail fares in the country.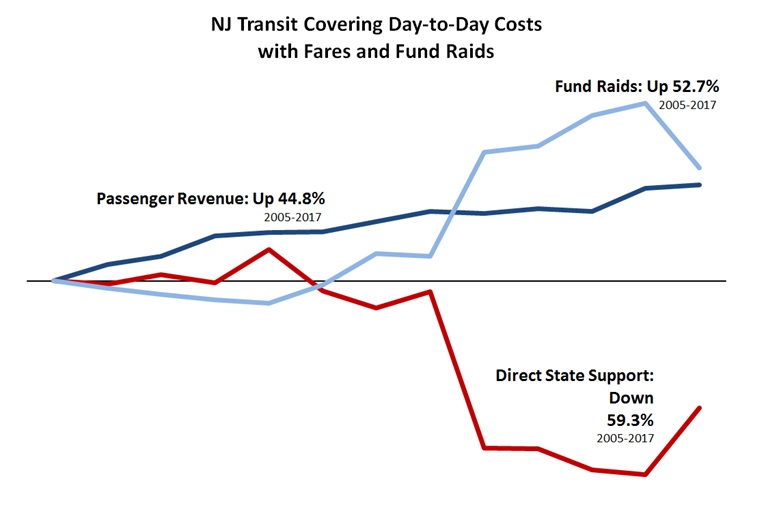 But perhaps the most debilitating funding mechanism employed by NJ Transit is its cannibalistic capital-to-operating transfers. About 25 percent of the budget that pays the salaries of bus drivers and train conductors comes from the budget that is supposed to be used for capital improvements. This takes a toll on the agency's ability to keep its infrastructure in good shape, but that's not all. As capital funds meant to be used for system expansion projects go toward keeping the lights on in Newark Penn Station, it becomes increasingly difficult to meet growing ridership demands.
To put the extent of NJT's capital-to-operating transfers in perspective, the Chicago Transit Authority transferred $343.6 million over the 5 year period leading up to 2010. NJ Transit transferred more than that in FY 2017 alone. CTA was able to end this practice in 2012; NJ Transit has transferred nearly $7 billion from its capital budget to its operating budget since 1990.
SEPTA also balked at the practice, recognizing that it comes with a price, WHYY reported in 2007:
Using capital funds to supplement its operating budget has not come without a cost.  "We've been robbing Peter to pay Paul," said SEPTA spokesman Richard Maloney (now retired). As Don Shanis, (former Deputy Executive Director of the Delaware Valley Regional Planning Commission) put it, "they've deferred a lot of capital projects."
SEPTA successfully ended the need to transfer funding in 2008.
Years of under-funding NJ Transit has delayed capital projects such as the Camden-Glassboro Line and the Hudson Bergen Light Rail extension. This under-funding threatens safety too: NJ Transit has been slapped with more fines for safety violations than any other commuter railroad, and it has a significantly higher crash rate than the rest of the nation's 10 largest commuter railroads.
The state let a key opportunity for comprehensive transportation funding reform slip by as it negotiated the replenishment of the Transportation Trust Fund. Now the New Jersey Legislature must roll up its sleeves and work with NJ Transit's leadership to put it on the path to solid financial footing.  NJ Transit's poor safety record and vacancies at key positions, along with the state's flailing economy, show that NJ Transit's woes aren't just problems for the agency's 464,000 daily riders; they're problems for the entire state.
---
Peer transit agencies chosen based on similar vehicles operated in annual maximum service (VOMS). Transit agencies are required to report the number of VOMS to the National Transit Database. VOMS is the number of vehicles operated during the peak season of the year on the week and day that maximum service is provided. Transit agencies report both the number of VOMS directly operated by the transit agency and the number of VOMS operated by contractors.