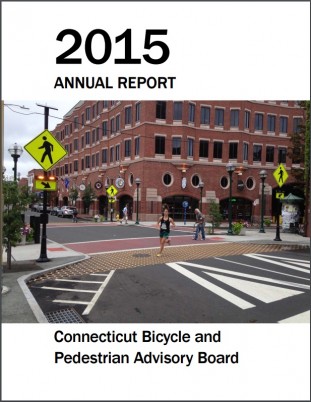 A new report from the Connecticut Bicycle and Pedestrian Advisory Board shows that the Nutmeg State's is becoming a better place for people of all abilities to bike and walk.
The report highlights some key accomplishments, such as the addition of new Bicycle Friendly Communities, progress on trail construction, and the passage of a bicycle reform law which allows for more flexible street design and expands the rights of people on bikes to determine how to ride most safely.
The report also details some "institutional factors hindering great progress," such as the state's outdated design manual, which is currently undergoing an internal revision by the Connecticut Department of Transportation:
Complete streets results are particularly hampered by CTDOT's slow progress in updating the Highway Design Manual. The lack of an updated design manual does not prevent all progress but prevents complete streets from being a standard and systematic part of CTDOT's work throughout the state. Further, use of a design manual that ignores modern street design for pedestrians, bicycles and transit should not be the State's standard.
The report contains an exhaustive list of recommendations and other action items, including:
Asking the Department of Transportation to set aside 14 percent — the share of traffic deaths that are vulnerable users — of its federal Highway Safety Improvement Program funding to improve safety for walking and biking.
Advising the Connecticut General Assembly to clarify a statute that requires drivers to stop for pedestrians who are at, or in, any marked or unmarked crosswalk, consistent with laws of many other states.
Encouraging state agencies to integrate walking and biking with transit and transit-oriented development projects.
Collaborating with the Department of Motor Vehicles to ensure that driver education programs include up-to-date information on properly sharing the road with pedestrians and bicyclists.
Advocating for secure bicycle parking at Hartford Line rail stations and safe carriage on trains that does not compete for space with ADA accessible seating.
Pushing municipalities and CTDOT to seize opportunities to narrow travel lanes to 10-11 feet, add bike lanes and mark crosswalks in compliance with Connecticut's complete streets law.
Challenging CTDOT to beat its 2017 target date for completing the revision of the Highway Design Manual, while also including input from the board and other stakeholders.
Connecticut "has not yet become a leader in protecting and supporting pedestrians and bicyclists," the report says, but there is reason to be optimistic that progress toward becoming a more multimodal state will continue.
The board's full report can be found here.