Governor Cuomo's proposal to overhaul LaGuardia Airport has brought a great deal of attention to the meager state of one of the region's most important airports. While LaGuardia is a vital link to the region, its annual passenger count pales in comparison to the masses of people relying on trans-Hudson tunnel and bus infrastructure that is decaying or at capacity.
A Tri-State analysis* shows that nearly 200 million people made a trip across the lower Hudson River (Holland/Lincoln Tunnels and George Washington Bridge) via various transit modes in 2014 while roughly 25 million passengers traveled through LaGuardia Airport–only an eighth as many people. Over the past decade, while passenger growth at LaGuardia has held relatively steady, trans-Hudson transit travel has increased over 20 percent. While the two indicators are no apples-to-apples comparison, these counts show how critical it is to invest in both Gateway and a new Port Authority Bus Terminal. Given the magnitude of people who rely on this fragile and obsolete infrastructure today and how closely intertwined the region's growth is on expanding trans-Hudson transit capacity, it is even more important to the region that these projects be funded.
Lower trans-Hudson trips greatly surpass annual passenger counts even when considering the three major regional airports serving the New York area. In 2014, the combined passenger totals at Newark Liberty, John F. Kennedy, and LaGuardia airports added up to just over 115 million people–just over half of all transit trips across the Hudson.
While projects such as Gateway, a new Port Authority Bus Terminal and PATH signal upgrades may not have the media power of a new airport, their influence on the day-to-day mobility of people and the region's economy should not be underestimated.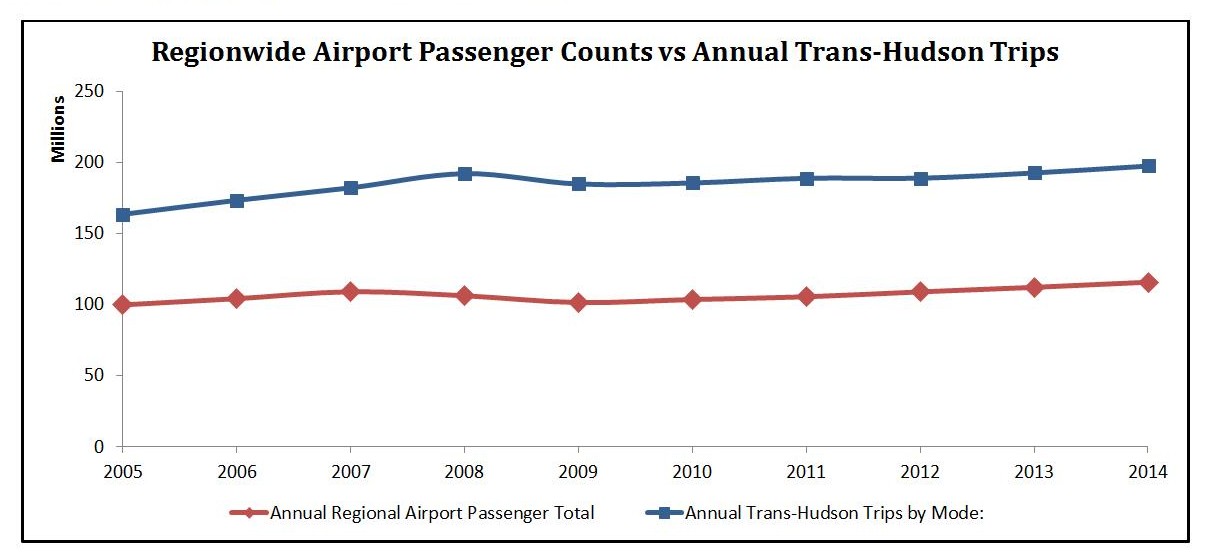 ---
*Data Source: Port Authority of New York and New Jersey, New Jersey Transit and the National Railroad Passenger Corporation (Amtrak).