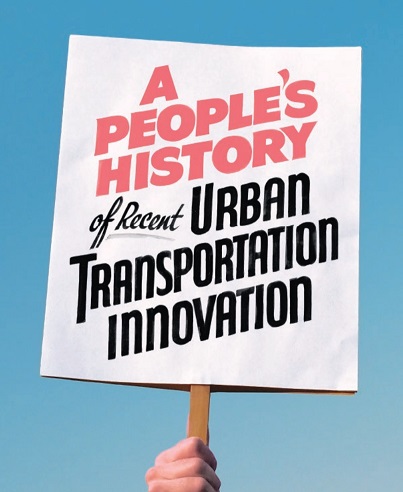 New York City streets have changed a great deal in the last decade: public plazas, bike lanes, Citi Bike, Select Bus Service and legislation reducing the speed limit from 30 to 25 miles per hour have all contributed to an overall improvement in the city's quality of life.
According to a recent report by the civic philanthropy TransitCenter, New York's experience, along with that of five other cities–Charlotte, Chicago, Denver, Pittsburgh and Portland, Oregon–offers valuable insights into the human factors that ultimately drive innovation in urban transportation. The report finds that progressive change in urban transportation is less about adopting new technologies and more about "reintroducing human vitality into streets that have been lost to cars for decades." Further, lasting change that prioritizes people over vehicles is almost always initiated and driven by resident-led advocacy groups.
The fact that advocacy groups are often key drivers of progressive change is not surprising. What is surprising, however, is how far advocates have to go to make change happen. The model advanced in the report suggests wholesale change requires engagement on three levels: the civic sector; bold public officials who appoint visionary transportation agency heads; and agency staff willing to implement new policy and practices. It's not enough for advocacy groups in the civic sector to merely inspire elected officials to adopt new ideas. Advocates are most effective when they embed themselves in government–either as elected officials, agency heads or staff–in order to fast-track the adoption and implementation of innovative transportation policies.
Consider New York City, an example the report singles out as a perfect illustration of "a universal model of how ideas started with civic activist groups, were then embraced by elected and appointed leaders, and were ultimately institutionalized by staff in the bureaucracy." After decades of incremental yet modest change led by advocacy groups like Transportation Alternatives (TA), Regional Plan Association and TSTC, the changes you see today succeeded mainly because New York City voters elected Michael Bloomberg as mayor, who in turn chose to prioritize sustainability issues through his PlaNYC initiative, a marked contrast from Mayor Ed Koch's 1987 bicycle ban, which forbade cycling on Fifth, Park and Madison Avenues.
Bloomberg then hired Janette Sadik-Khan as the Commissioner of NYC Department of Transportation (DOT). In addition to being a seasoned transportation reformer, Sadik-Khan was also a former TSTC board member. With Sadik-Khan at the helm, NYC DOT spearheaded immense change, including adopting a Safe Routes for Seniors program, publishing new design standards in NYC Streets Design Manual in 2010 and supporting regulatory changes requiring the New York Police Department to publish a monthly record of traffic crashes and summonses.
As the report notes, Sadik-Khan was able to engender a disruptive culture of "getting things done." Key to that strategy was employing like-minded staff: Jon Orcutt, the former executive director of both TA and later TSTC; Andy Wiley-Schwartz, a public space consultant for governments and municipalities at Project for Public Spaces; Dani Simons, formerly of TA; and Kate Slevin, former executive director at TSTC.
Agency staffers, the report continues, are ideally positioned to carve out new paths for ideas to become reality and create new standards that serve to institutionalize innovations as part of the agency's culture. Who better to lead this critical process than "advocates-turned-staffers"?
So what does this mean for cities craving similar innovations in urban transportation? Strategizing, organizing and agitating for change from advocates is a necessary and very helpful first step. But, if New York and cities like it are anything to go by, lasting change will depend on the success advocates have in not just influencing decision-makers but also becoming decision-makers.