Mobilizing the Region recently explored the current and future capacity problems confronting trans-Hudson commuters and why the Port Authority Bus Terminal should be one of the Port Authority's top transportation priorities. But how to pay for a project with continually rising cost estimates? One possible source of funds could be the proposed extension of PATH service to Newark Liberty International Airport.
Projected to cost $1.5 billion, the extension project would bring PATH trains from the current terminus at Newark Penn Station to the Newark AirTrain monorail station. From there, riders would transfer to the AirTrain for terminal access. Although the extension proposal has been heralded as a "one-seat ride" from Lower Manhattan to the airport, this arrangement provides, at minimum, a two-seat ride for travelers whose trips originate within luggage-lugging distance to the World Trade Center PATH station, and a three (or more) seat ride for travelers coming from elsewhere in New York City (the only current public transit one-seat ride is by bus).
There already exists a two-seat rail ride to Newark Liberty Airport from Manhattan: NJ Transit or Amtrak from New York Penn Station to the AirTrain, AirTrain to the terminal. And like the proposed PATH route, would be three or more seats if arriving at Penn Station by any means other than walking.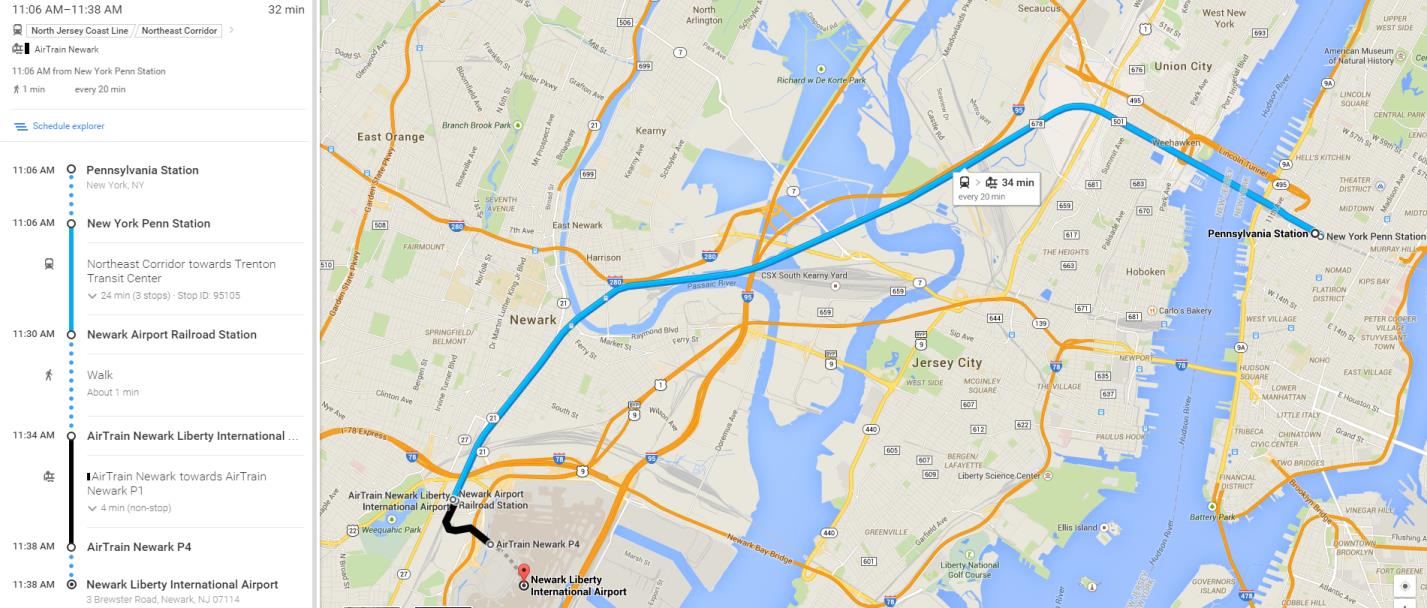 And overall, the current transit access map to Newark Airport is as follows:
With funds at Port Authority tight, and clear capacity needs at PABT, building another two seat ride from Manhattan should attract ridership that justifies the spending. Ridership projections vary, from 2.2 million yearly passengers to 2.5 million and up to 4 million by 2020. Assuming these are all new passengers and not some of the already 2.2 million yearly passengers already taking AirTrain, yearly ridership might reach 4.7 million upon opening—or roughly 7 percent of the current yearly ridership at the Port Authority Bus Terminal. The PABT serves more than 4.7 million people in one month, yet aside from last year's $90 million 'Quality of Commute' allocation, the terminal is only slated to receive $173 million in the current capital program, none of which is designated for a new terminal or even capacity improvements at the terminal.
Alternately, one might argue that since this money has been earmarked for PATH, it should be spent on PATH. In that case, PATH also has capacity issues that are more pressing than getting passengers to the airport. PATH Ridership numbers:
In fact, during the morning peak alone, the 33rd line and World Trade Center each serve almost five times as many riders heading to Manhattan than AirTrain serves all day. And these numbers are sure to grow with development in Jersey City, Hoboken and Harrison and at WTC. Despite these large ridership differences, the Port Authority's Capital Plan prioritizes the PATH Extension and Harrison Station (which serves approximately 7,000 riders per day) over capacity expansion in terms of both spending and timing.
The Grove Street Station capacity expansion project will allow 10-car trains to run through the station on their way to WTC. With ridership even higher on the JSQ-33rd Street line's seven-car trains, and Grove Street being the station where both lines meet, is it possible that for around $200 million per station, it would be worth expanding other stations on the JSQ-33rd Street line so 10-car trains can run in the near term with the $1.5 billion earmarked for the PATH Extension.