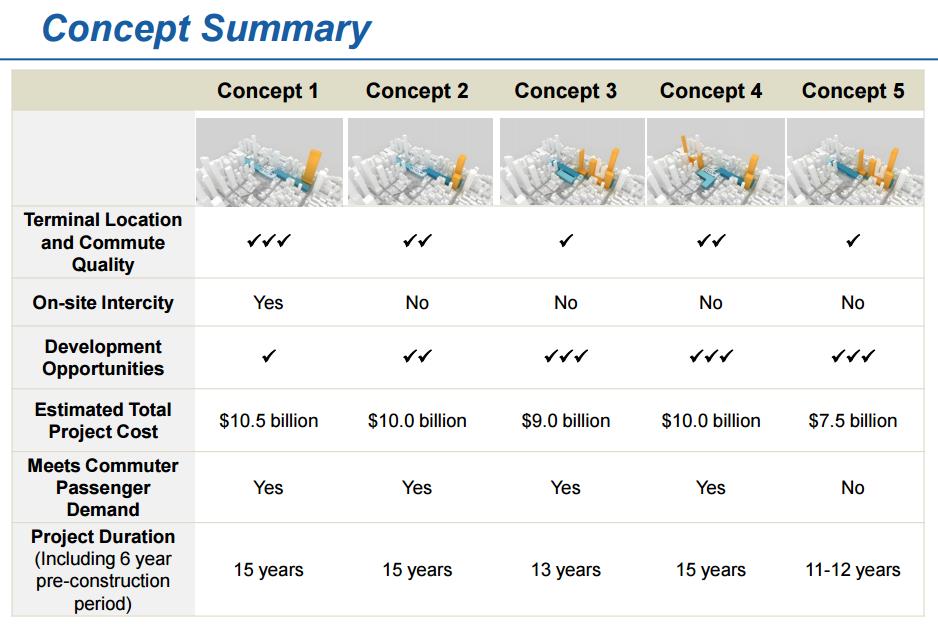 Last week the Port Authority of New York and New Jersey released preliminary proposals for a new bus terminal. There were five proposals in total, estimated to take anywhere from 11 to 15 years to complete, with some estimated to cost as much as $10.5 billion. And while it's very encouraging to see the Port Authority finally acknowledge the bus terminal's real long-term needs, a new terminal is not a slam-dunk solution to the cross-Hudson capacity dilemma. There has been a serious dearth of vision for managing cross-Hudson capacity, which is poised to become a true crisis for all public transit modes if solutions and funding are not prioritized.
Port Authority Bus Terminal (PABT)
The PABT was built in 1950 at a cost of $24 million (approximately $233 million in today's dollars), but quickly reached operating capacity by 1966, necessitating subsequent expansions. Today, the terminal is again operating above capacity, handling over 230,000 riders per day, with demand projected to grow to 330,000 by 2040. This is not a new issue. In fact, Tri-State has been sounding the alarm about cross-Hudson bus capacity since last decade.
PATH Train
Riding trains across the Hudson is also an increasingly daunting experience. Jump on any rush hour PATH train and you are sure to be far from alone. PATH ridership stands at roughly 250,000 passengers per day, an increase of nearly 50,000 passengers per day since 1994, and with even more development slated for Hoboken and Jersey City planned or under construction, capacity is and will continue to be a real problem.
NJTransit/Amtrak
The other cross-Hudson commuter issue is tunnel capacity for NJTransit and Amtrak. The North River Tunnels, which carry 359 NJTransit and 100 Amtrak trains every day, are at capacity. With the cancellation of ARC in 2010, the only current plan on the horizon is Gateway, with a potential completion date of 2025.
The Port Authority needs to better address the urgency of these cross-Hudson capacity problems, especially since 86 percent of people entering Manhattan during rush hour use these modes (bus, PATH and commuter rail). It was only after significant advocacy that the Port Authority found another $90 million in its 2014-2023 capital program for Quality of Commute improvements, despite the need for a new bus terminal having been discussed for more than a decade.
Given the commuting breakdowns between modes, cross-Hudson capacity must be improved in the short term and increased in the medium/long term because public transit is by far the preferred mode of travel between New York and New Jersey. Forcing even just a small number of these public transit riders into cars would grind the delicate and fragile transit weave to a halt. The Port Authority must embrace its mission of "undertak[ing] port and regional improvements not likely to be financed by private enterprise, or that would not be attempted by either state alone" to combat these problems.
A new PABT is a good start. It was surprising to see new estimates 10 times greater, given that previous estimates as recently as last year approximated a cost of $800 million. The Port Authority must bring down costs and get the project going; the capacity constraints at the obsolete terminal and the longstanding awareness of the problems ahead necessitate that the Port Authority make this a top priority now.
One way to jumpstart this terminal is to shift the $1.5 billion earmarked for a PATH extension to Newark Airport—a redundant project that would not serve to increase capacity. Capacity projects like the PABT and Gateway, and improvements to the PATH, should be the Port Authority's major infrastructure investments in its current capital program, and these investments should be on par with others. Aviation comprises 29.1 percent of the capital program, while, PATH (without the proposed extension) comprises 7.8 percent; the PABT, a paltry 0.63 percent.