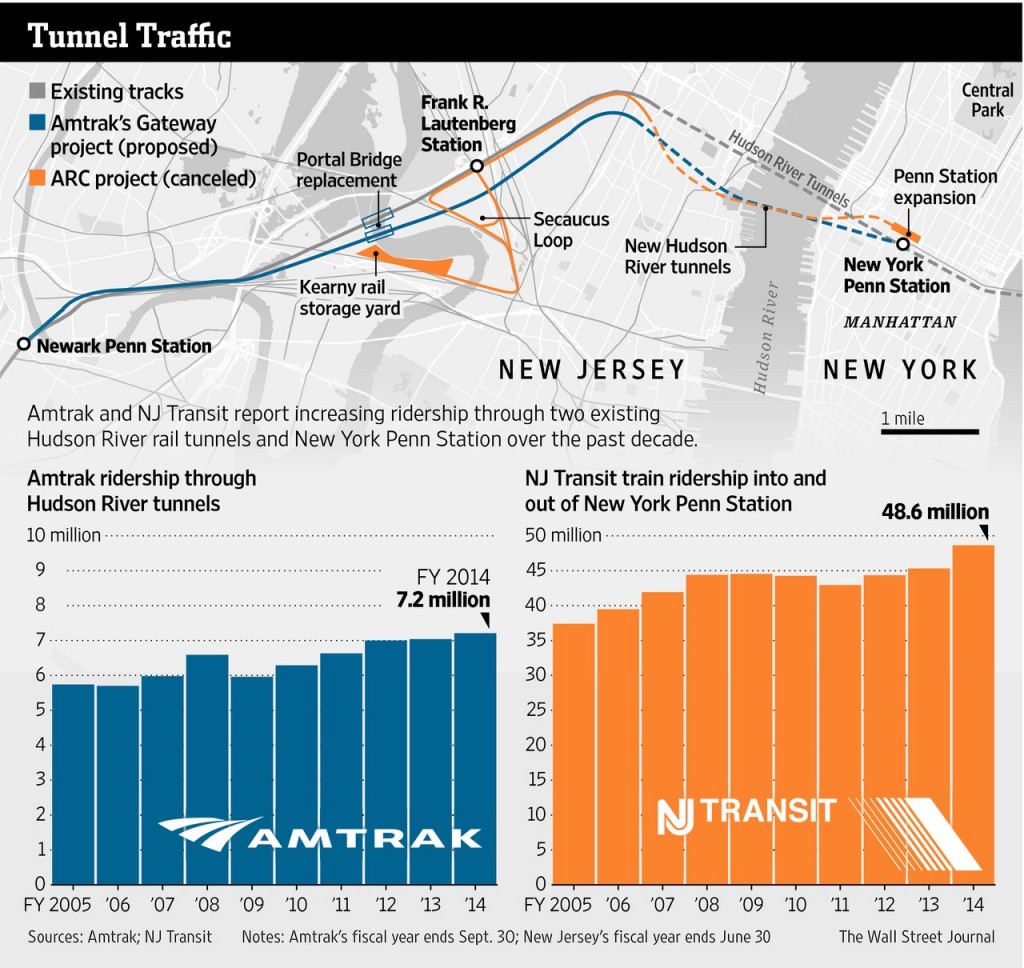 Amtrak launched a new website last week designed to increase awareness about the importance of the Northeast Corridor (NEC) to this region and its capital needs.
The new NEC website includes information, updates, maps and infographics, and other resources about several NEC infrastructure projects both under construction and in the planning stage, including the 104 year-old Portal Bridge—a key component of the Gateway project—which carries 450 trains daily and has been blamed for more than 250 delays in the last two years.
Hands down, the NEC is the region's economic vitality linchpin, with 750,000 daily trips supporting a $2.6 trillion economy. Here in the tri-state region, the NEC and public transportation go hand in hand in supporting New Jersey's economy, linking the Garden State to the economic powerhouse of New York City:
As of the 2010 American Community Survey, more than 11 percent of all New Jersey commuters used public transit, with Hudson, Essex and Bergen Counties—the counties closest to New York City—having the highest percentages of commuters using transit;
As of the 2000 Census, one in every 15 employed New Jersey residents works in Manhattan, and more than 70 percent of them commute by public transit;
NJ Transit ridership continues to grow, with an increase in total ridership between 2013 and 2014 of more than 950,000 riders;
Mass transit provides access to higher paying jobs in Manhattan, where average wages were 2.5 times the national average in the first quarter of 2014 and were 60 percent higher than in New Jersey in 2009.
Some have predicted rail ridership will double by 2030, and the Northeast Corridor's most critical need is additional cross-Hudson rail capacity. Since Governor Christie cancelled the Access to the Region's Core (ARC) project in 2010, the burden to address that need falls on the shoulders of Amtrak. The Gateway Program could potentially satisfy the burden with support from mutiple funding partners, but with the exception of funds for the "tunnel box" under Hudson Yards, the project is still lacking much-needed funding—at least $15 billion is still needed, in addition to "cooperation from local, state and federal agencies controlled by politicians with competing interests."
It's a heavy lift and a long haul for New Jersey commuters and businesses that rely on the connection to New York City, especially considering the deteriorating condition of the existing tunnels.
By providing increased trans-Hudson rail capacity, the Gateway project would allow for more one-seat rides to New York City, which has been proven to increase property values of homes within two miles of NJ Transit rail stations. The addition of Midtown Direct Service is credited with an average increase in home values of $23,000 per home.
This has inspired New Jersey municipalities to advocate for one-seat service to Manhattan. For example, after a campaign by the Raritan Valley Rail Coalition and local leadership (and courtesy of the dual-locomotives purchased in anticipation of ARC), the NJ Transit Raritan Valley diesel train line received its first direct train to New York City — an off-peak train — in 2014, and expanded the ride with more off-peak times earlier this month. Riders on the North Jersey Coast Line are also pushing for year-round direct service.