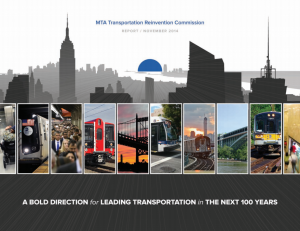 Just in time to feast on before the Thanksgiving holiday, the final report of the Metropolitan Transportation Authority Transportation Reinvention Commission was released today, identifying seven key strategies to help the agency plan, prepare for and fund the next 100 years of transit investments.
While various outlets will focus on the funding, customer service and project delivery overhauls, there are key recommendations that acknowledge the interconnectedness of the MTA with transit systems and facilities in the tri-state region, a region where transit agencies and authorities operate independently of one another other—often in a vacuum. Given Tri-State's regional role and our seat at the Reinvention Commission roundtable, we've highlighted the recommendations from the report that have implications for all beneficiaries of the MTA's bus, subway and rail systems in the agency's three state service territory:
Prioritize new fare media to facilitate seamless travel across the region. [Strategy Three, p.37]
With commuters from all three states using multiple transportation modes and systems, integrating fare media across various agencies—MTA, NJ Transit, PATH, NICE, Bee-Line, Tappan Zee Express, etc.—would provide seamless connectivity and ease of transfer.
Increase connectivity between MTA and other regional transportation providers. [Strategy Four, p. 42]
The MTA network operates in a region with other transit agencies and facilities, yet transit planning is often siloed within state and agency jurisdictions. This often leads to fractured approaches to transit needs that impact more than one agency (e.g. capacity/infrastructure constraints at Penn Station; outdated Trans-Hudson tunnels, terminals and tracks)
Make investments to increase core capacity…[by] expanding track capacity on commuter rail. [Strategy Four p.42]
Westchester County has experienced a reverse-commute surge and would benefit from an extension of the existing Third Track on the Harlem Line from Crestwood to North White Plains. The existing Harlem Line Third Track from Mount Vernon West and Crestwood "has increased access for intermediary markets along the Harlem Line." Similarly, with improved cross-Hudson bus service ahead for Rockland County commuters, this is an opportunity to explore increased capital investment on NJ Transit's Pascack and Port Jervis branches serving Rockland County residents and commuters. Long Island will soon be choked with traffic, but two surefire solutions are to complete the Second Track project and prioritize the proposed Third Track/Main Line project from Floral Park to Hicksville.
Leverage available off-peak commuter rail line capacity for more frequent (rapid transit-like service). [Strategy Four p.42]
While the peak travel period is being squeezed, more frequent off-peak service can accommodate flexible work schedules and encourage time-of-day shifts. The report notes that "reverse peak service linking people who live in NYC to suburban jobs in Westchester and Connecticut continues to be Metro-North's fastest growing market."
Implement bus rapid transit in emerging (non-CBD) markets. [Strategy Five, p. 46]
Opportunities abound for interconnected regional service to new employment and housing options in the region, as there are many potential BRT projects planned—and several already underway—in the tri-state region: Westchester County's Central Avenue BRT; the New NY Bridge Mass Transit Task Force recommended a new bus system along the I-287 corridor between Rockland and Westchester; Suffolk County is trying to improve Nicolls Road/Route 110 with BRT service; Bergen County's BRT study is narrowing down possible service routes; elected officials and advocates are pushing hard for BRT along Woodhaven/Ocean Bay Boulevards in Queens; and Connecticut's CTfastrak BRT project, once complete, will connect with Metro-North's Waterbury branch.
Implement through service between the MTA railroads (LIRR and Metro-North) and between MTA railroads and NJ TRANSIT. [Strategy Five, p. 46]
"Through running," where a one-seat ride with fewer transfers is offered across various systems, is a familiar transit perk to many football fans who have traveled via Metro-North and NJ Transit into the NJ Meadowlands. This occasional perk could be explored in a regional capacity, as it is possible to run train service along tracks regardless of who operates the system. For example, Long Island residents could access Newark Airport via an extension of NJ Transit service.
Partner with the Port Authority and NYC to improve transit access to and from the airports. [Strategy Five, p. 46]
With proposals for BRT underway in Bergen County, and the suggested standardization of Select Bus Service improvements to the entire bus network, bus transit to/from the airports can evolve and improve. And if this improved bus access could tie into major improvements at the Port Authority Bus Terminal, it's very likely that an entirely new commuting market will emerge.
Strengthen regional cooperation and integration. [Strategy Six, p. 52]
Economic development, housing and land use decisions in the MTA's tri-state service territory are often made without significant input or engagement from the MTA. As the operator of the transit service serving areas impacted by the decisions made, greater interstate and interagency discussions are needed. The MTA must be an active stakeholder in Regional Economic Development Council decisions in order to plan and prepare for growing ridership.
Increase TOD development [with a new interagency task force to develop TOD guidelines and processes]. [Strategy Six, p. 53]
There is key language to "evaluate any barriers created by local, state, or federal laws and regulations" which could have a profound impact in supporting more affordable, mixed-income and mixed-use development around rail and bus hubs.
Create a regional land use and transportation planning database that cross-cuts all agencies. [Strategy Six, p. 53]
MTA, NJ Transit, Port Authority of NY & NJ, Connecticut Department of Transportation, and suburban bus operations such as Bee-Line, NICE and Transport of Rockland gather a wealth of information and conduct a multitude of studies that examine ridership growth, origin and destination data, emergent housing and employment centers, and zoning changes within their service areas. Efficient interagency and interstate regional planning cannot happen without sharing and integrating this data.
Require more frequent review of interagency operating agreements (i.e. with ConnDOT and NJ TRANSIT). [Strategy Six, p. 53]
The MTA's operating agreement with ConnDOT is 31 years old and the MTA's operating agreement with NJ Transit expired in June 2012. If no changes are made, the operating agreements can automatically renew. But, a more systemic, scheduled approach to reviewing the operating agreements in response to changing ridership needs, land use patterns and new developments would require a more concrete, less ad-hoc approach.
Lastly, the MTA cannot be reinvented without reinforcing the principle that "all who benefit" from the MTA's vast transit network should help pay for it. State boundaries and municipal jurisdictions can no longer be the excuse for the lack of coordinated financing mechanisms. As the report notes, "[t]he MTA and local governments, as well as Connecticut and New Jersey, should work cooperatively to encourage growth around transit and cooperatively fund transit improvements from the increased value and economic activity." This idea offers a safe, initial introduction to increased tri-state transit investment and should lay the trackwork for integrated funding agreement across state lines.