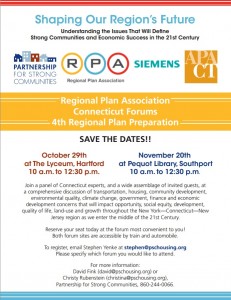 Regional Plan Association is in the process of developing its Fourth Regional Plan, which is a "multiyear initiative to create a blueprint for our region's growth, sustainability, good governance and economic opportunity for the next 25 years." As part of this process, RPA has partnered with Partnership for Strong Communities, Siemens and the Connecticut Chapter of the American Planning Association to host two Connecticut forums to solicit input for the Fourth Regional Plan.
These forums, led by a panel of Connecticut experts and specialists, hope to spur a comprehensive discussion of issues impacting economic, environmental and community development across the tri-state region, including transportation, housing, climate change and land use. In order to make the forums accessible and convenient for those who wish to attend, there are two forums held in two locations on two separate dates:
Wednesday, October 29
The Lyceum, Hartford, CT
10 a.m. to 12:30 p.m.
Thursday, November 20
Pequot Library, Southport, CT
10 a.m. to 12:30 p.m.
Because of capacity constraints at each location, we recommend that you register early for the event you would like to attend.