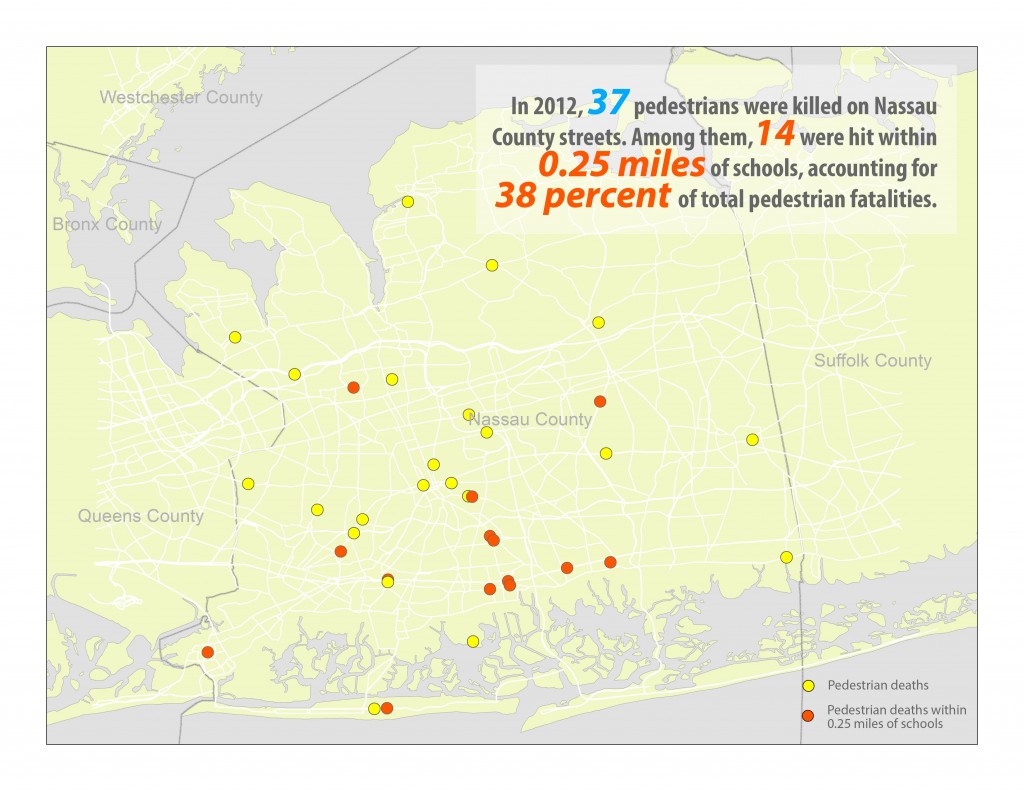 Newsday's Editorial Board said of the speed camera controversy in Nassau County: "No one reported an epidemic of serious accidents in school zones recently."
However, a TSTC analysis reveals that there is in fact a high risk of being struck by a vehicle within a quarter mile of a school Nassau County. In 2012 alone, among the 37 pedestrians killed on Nassau County's streets, 14 were hit within a quarter of a mile of school, accounting for nearly 40 percent of total pedestrian fatalities countywide. Though not everyone killed in these areas were school-age children, such a high probability of pedestrian deaths occurring near schools should raise concerns about potential traffic dangers for children, and call for more dedicated measures to enhance pedestrian safety.
Nassau County has been home to the most dangerous road in the region for pedestrians in five out of the six years since TSTC first began its Most Dangerous Roads for Walking analysis in 2008. Between 2010 and 2012, a total of 88 pedestrians were killed along roadways countywide. And according to Governor Cuomo's Traffic Safety Committee, the 40,000 speeding tickets issued by a handful of speed cameras during the course of one month this past summer surpassed the total tickets issued by Nassau County police officers in all of 2012.
Despite the fact that a child has only a 30 percent chance of surviving being struck by a car traveling 40 mph, but an 80 percent chance of surviving if the car is traveling 30 mph, opponents to the speed camera program remain vocal. Complaints about a lack of signage indicating camera placement and confusion over whether school is in session have generated a fair share of outrage from people breaking the law.
Misguided opposition aside, the analysis highlights there is little room for debate about the need for speed cameras within a quarter mile of schools. Rather than complicating matters further by conceding to drivers' demands regarding camera placement and visibility, Nassau County's elected officials should be advocating for additional speed camera technology by calling for the lifting of time of day restrictions, the removal of distance-based regulations and greater measures to improve traffic safety around schools.
Editor's note: All of Tri-State's funding is provided by foundation sources.