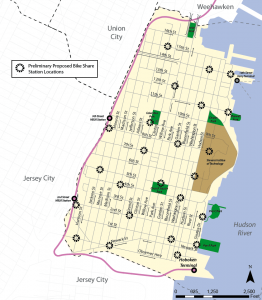 Help improve bike access and mobility in Hoboken and Weehawken! Where would you like to see a bike share station: near your favorite restaurant, at a movie theater, in the park, in front of your office building?
As the cities prepare to launch the first phase of a 300-bicycle joint bike share program this fall, the public has a key opportunity to identify where they'd like bike share stations to be located. Suggestions can be input directly into this map.
By adding bike share, Hoboken and Weehawken are taking the next step to increase transportation choices for residents, making it easier to access the PATH, ferries and buses, and to more easily travel between and within the two cities. Hoboken and Weehawken will join only a handful of New Jersey communities that currently offer bike share: Collingswood, Camden County, and Rutgers New Brunswick.
The deadline for feedback is Wednesday October 8.