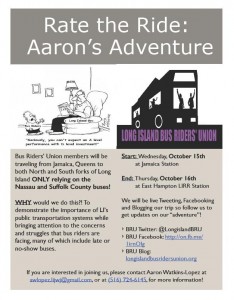 Bus riders in Nassau County are facing unrelenting fare increases and unmet service needs, while the County Executive completely reneges on a commitment to help fill the NICE Bus deficit. State legislators ignored pleas from elected officials and advocates for increased county transit funding and let the state's legislative session end without securing additional funds to support last year's wildly successful weekend service expansion on Suffolk County Transit.  If state and local representatives in these counties can't advocate for the frustrated bus riders, who can?
To draw attention to the importance of Long Island's public transportation system and the struggles its riders face, the Long Island Bus Riders' Union is hosting its first-ever "Rate the Ride: Aaron's Adventure" event. Aaron Watkins-Lopez, a LIBRU organizer, and other BRU members will be embarking on a two-day journey to traverse Long Island from Jamaica, Queens to the North and South forks of the Island using only the bus systems. The trip will begin on Wednesday, October 15 at the Jamaica Station and end at the East Hampton Long Island Railroad Station on Thursday, October 16. During the endeavor, the group will be live Tweeting, Facebooking and blogging their struggles and successes, as well as their conversations with other riders they encounter along the way.
If you'd rather join in than tune in, please contact Aaron Watkins-Lopez at awlopez.lijwj@gmail.com or (516) 724-6145 for more information on how to join the ride.