New Jersey has dropped from 7th to 12th place in the League of American Bicyclists' latest Bicycle Friendly States report — the Garden State's lowest ranking in the seven years that the League has been publishing the annual report.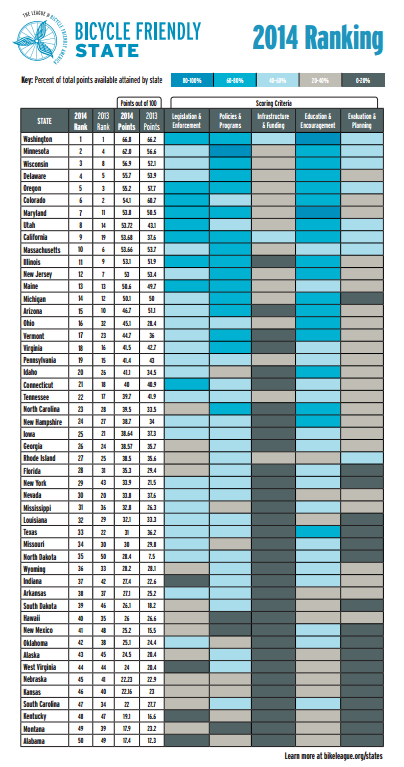 The League measures bicycle friendliness by awarding  up to 100 points based on a number of key indicators, including infrastructure and funding that provide on-the-ground bicycle facilities; education and encouragement of programs that promote cycling; and passage and enforcement of laws that make it safe and comfortable for people of all ages to ride. New Jersey's bicycle friendliness remained stagnant between this year and last, showing less than a half-point difference in total points from 2013 to 2014. But with other states' point totals on the rise, New Jersey's inaction caused its ranking to fall five slots.
In the 2014 Report Card for New Jersey, the League identified the lack of a safe passing law and a vulnerable user law as the state's key shortcomings. Although New Jersey continues to be a national leader in passing Complete Streets policies at the municipal and county levels, it has yet to enact legislation that will better enforce reckless driving to protect pedestrians and bicyclists on the roadway.
The good news is that New Jersey legislators have already introduced bills this year focused on improving safety for pedestrians, cyclists and other vulnerable users:
S231/A958 a vulnerable user bill, which increases penalties for motor vehicle violations resulting in serious bodily injury or death to pedestrians, cyclists, or highway workers
A1591 which would increase penalties for careless driving when a violation results in injury or death to a pedestrian.
A1600 which requires drivers to move over or slow down when approaching a bicyclist or pedestrian.
Increased funding for safe street infrastructure is also needed. In 2014, 2.8 percent of NJDOT's dollars are directed toward projects that make streets safer for pedestrians and cyclists — an increase from 2.1 percent in the previous year. However, according to the New Jersey State Police, pedestrians and bicyclists accounted for 27 percent of all road fatalities in New Jersey in 2013. Given this stark disparity, New Jersey must put more resources into these projects. The recent changes to the Route 35 project are the most recent example of how New Jersey is doing that, but to remain a leader in bicycle friendliness, there must be less of an advocacy lift to get legislation and projects advanced that support a more bicycle-friendly state.