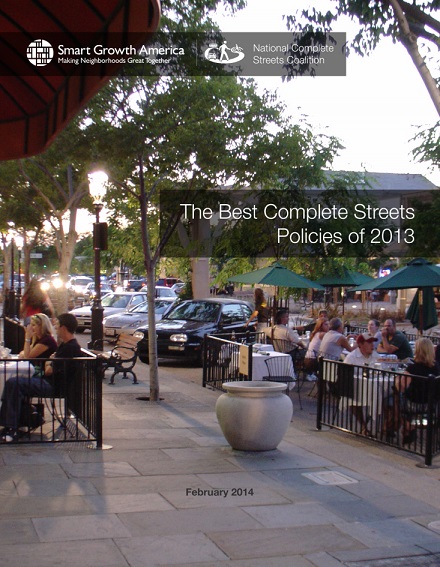 Smart Growth America released its Best Complete Streets Policies of 2013 report last month. The report ranks each Complete Streets policy enacted in 2013 using a system that measures ten ideal elements of a Complete Streets policy and scores each policy based on those ideals.
While there weren't any policies from the tri-state region in this year's top 10 (Trenton was #8 in 2012), both New York and New Jersey have achievements worth mentioning. New Jersey saw the greatest addition of policies in 2013 with 17 new Complete Streets policies adopted (California was #2 with 14 new policies), and the Garden State is ranked #2 nationwide with 78 policies (behind only Michigan, which has 79). The New Jersey Department of Transportaion also had the highest-ranked state internal policy in the nation.
In addition, several Complete Streets policies in New Jersey and New York scored above the median score of 60 (out of 100):
New Jersey
Lawrence  (79.2)
Trenton*  (78.4)
Linden*  (74.4)
Camden*  (74.4)
Metuchen  (72.8)
Chatham  (70.4)
Woodbridge  (63.2)
Cranford*  (60)
Netcong  (60)
New York
Part of the reason New Jersey is so well represented in the rankings is because of NJDOT's promotion of Complete Streets adoption and implementation. NJDOT provides an incentive point on Municipal Aid grant applications to those municipalities that have passed Complete Streets policies. The department also offers a Complete Streets guide to policy development and an implementation guidebook.
But adopting a Complete Streets policy is just a first step toward making roads safer and more accessible for users of all ages and abilities. It's how the policy is implemented that really makes a difference. While this report confirms that New Jersey remains a national leader in the adoption of Complete Streets policies, the implementation of pedestrian and bicyclist improvements has been a challenge in some places.
In New York, bicycle and pedestrian infrastructure only make up 2 percent of the state's transportation dollars, while pedestrians and cyclists make up 27 percent of traffic fatalities — a statistic that puts New York at the bottom of this list in the nation. That's why advocates have been calling on Governor Cuomo and the legislature to dedicate an additional $20 million annually for bicycle and pedestrian infrastructure through the state budget, a request that has received substantial support from legislators.
Noticeably absent from the rankings are any municipalities in Connecticut. While Connecticut adopted a Complete Streets Law in 2009 (which the report ranked second among all state Complete Streets laws in the country), unfortunately the concept hasn't quite caught on at the municipal level. New Haven has a highly-regarded Complete Streets design manual and policy which dates from 2010, but no Connecticut municipality has joined it (Bridgeport is reportedly developing a Complete Streets policy). And ConnDOT still has plenty of work to do to fully implement the state Complete Streets law.
* TSTC advocacy contributed to the development and/or adoption of these policies.