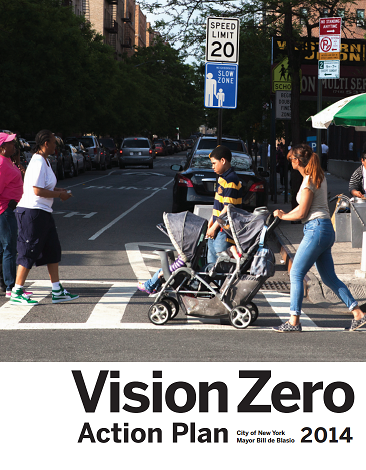 Yesterday's unveiling of New York City's interagency action plan to reduce pedestrian fatalities to zero, also known as Vision Zero, was finally presented in the somber tone the issue deserves. For years, pedestrian and bicyclist safety has been mired in politics about cost, traffic congestion and revenue. It has even been linked to gentrification and elitism. And amid this discussion, the lives that have been lost have been pushed to the background while legalese and self-interest have eclipsed the sadness that lingers.
In a subdued press event, Mayor de Blasio released a Vision Zero Action Plan filled with powerful memorials and strong text about saving lives. The Vision Zero plan continues, and vastly expands, what was started during the Bloomberg administration, while bringing humanity back to public policy. Mayor de Blasio declared that "No level of fatality on City Streets is inevitable or acceptable," and said "We won't accept this any longer. I make that pledge as a parent, and as your mayor."
The Vision Zero plan has been widely-covered within New York City, but because Mobilizing the Region aims to cover the entire tri-state region, we'd like to share some key messages in the plan that municipalities, law enforcement and elected officials beyond the five boroughs should consider in order to expand upon existing efforts to reduce fatalities on local, county and state roads.
Vision Zero is about people. People become the focus of our streets and the centerpiece of a new mobility culture.
Coordination among various agencies is needed. Road safety is not just in the wheelhouse of departments of transportation and law enforcement. It is an issue that pervades education, health (physical and mental), aging and the environment.
Coordination means no one entity is at fault; all share responsibility in prioritizing this issue.
Automobile associations and for-hire vehicles must be part of the solution. They have an interest in protecting drivers and reducing pedestrian deaths as well. This Action Plan should not be perceived as an assault on drivers.
Technology makes the job easier—period. Speed and red-light enforcement cameras save lives.
Data is a tool most effective when shared. Analyzing data and statistics without earnest interagency communication to address patterns, trends or clusters is an exercise in futility.
Driving is a privilege and abuses of that privilege lead to death and injury.
Education goes beyond the elementary school classroom. It must be part of state administered driving tests and driving certifications.
Justice and equity are key components of pedestrian and bicyclist safety. Though data is inadequate in fully capturing these demographics, limited analysis suggests people of color, the poor, disabled, elderly, and young are overwhelmingly represented in such fatalities.
The pain and loss felt by the hundreds of thousands of affected family members, friends and colleagues is the reason to move beyond the politics and self-interest.
Since 2005, the first year TSTC began collecting data for the annual Most Dangerous Roads for Walking analysis, nearly 3,400 pedestrians have been killed by vehicles in New York, New Jersey and Connecticut. We look forward to honoring the memories of those lives lost by turning our report into an analysis of the street improvements, legislation passed and technology used to reduce those fatalities to zero.