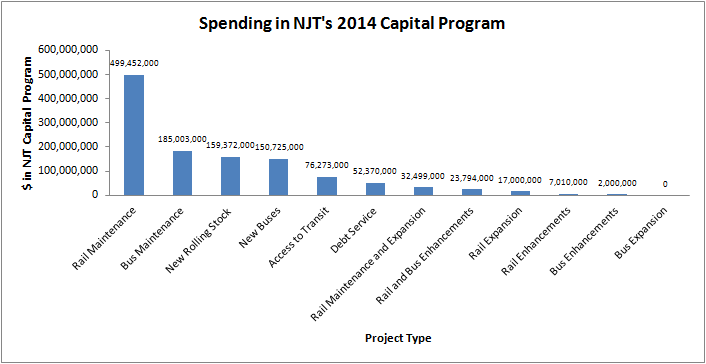 TSTC's new analysis of the New Jersey Department of Transportation's (NJDOT) and New Jersey Transit's (NJT) Transportation Capital Program for fiscal year 2014 reveals encouraging shifts towards greater investment in bicycle, pedestrian and transit projects. However, the agency is still spending too much money to build new roads and bridges for short-term traffic congestion relief instead of redirecting more of these funds to maintain the State's existing roads and bridges and retrofit more of the State's most dangerous roads to be Complete Streets compliant.
The analysis finds:
| | |
| --- | --- |
| Positive | Negative |
| The percentage of dollars going to projects that significantly expand New Jersey's roadways and bridges has decreased by 16.5 percent. | The percentage of funds dedicated to expansion projects is still high.  |
| The percentage of dollars going to projects that make the streets safer for pedestrians and bicyclists has increased by 34 percent. | The percentage of dollars going to projects that maintain the State's roads and bridges has decreased by 16.2 percent. |
| The percentage of dollars going to NJT has increased by 5.5 percent.  | A little over 30 percent of the NJT portion of the 2014 Capital Program will go towards funding for buses, yet in Fiscal Year 2012, bus trips made up almost 60 percent of NJT's average weekday unlinked passenger trips. |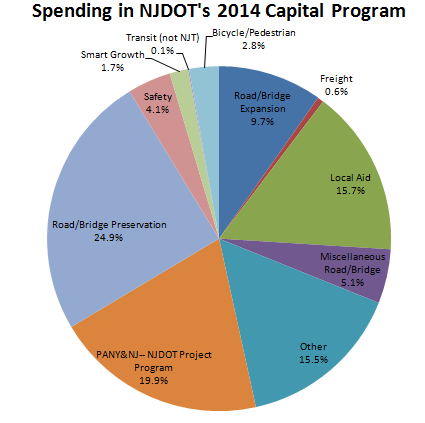 While the Capital Program has already been adopted for Fiscal Year 2014 (which began in July), moving forward, TSTC urges NJDOT and NJT to:
Shift away from expansion projects as congestion relief and instead, focus on alternative modes to provide congestion relief
Increase funds for fix-it-first to maintain and repair existing infrastructure
Increase funding for bicycle and pedestrian projects
Increase transparency in the Capital Program by identifying all project component costs including the cost of bicycle or pedestrian accommodations on road projects and identifying compliance/exemption to NJDOT's Complete Streets policy
Increase funding for bus capital and operations
And, because transportation is so important to New Jersey's economy, the Campaign also calls on Governor Christie and the State Legislature to create and approve new, dedicated revenue sources to replenish the Transportation Trust Fund.
The full report can be found here.