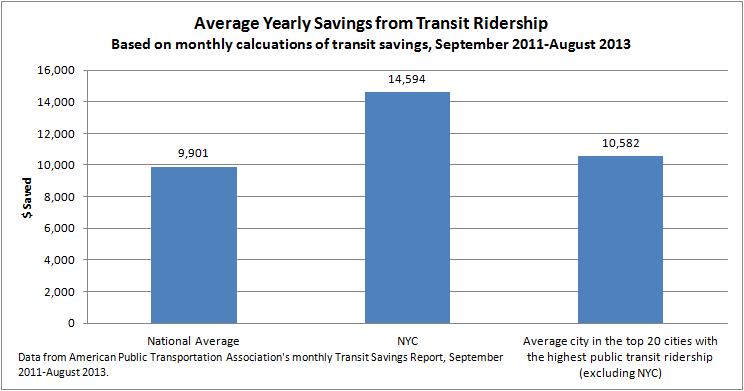 It's generally accepted that taking public transportation saves money. But just how much?
The American Public Transportation Association's monthly Transit Savings Report quantifies how much money per month a typical individual saves by choosing public transportation over driving. APTA's analysis relies on a number of assumptions, such as:
drivers have to pay for monthly parking;
drivers drive an average of 15,000 miles per year;
public transportation users only have to buy one monthly transit pass (not, for example, a monthly MetroCard and a monthly Metro-North ticket); and
public transportation users have no driving costs.
Nonetheless, the Transit Savings Report finds that using transit and "living with one less car" can save a striking amount of money.
TSTC crunched two years of data and found:
New York City residents

Average monthly savings: $1,216
From September 2012-August 2013: $14,691 in savings
From September  2011-August 2012: $14,497 in savings
Though New York City residents have had the highest savings of all the cities considered by APTA (the organization examines the top 20 cities with the highest public transit ridership), there are considerable savings for residents in the 19 other cities as well. Averaging the savings of the 19 other cities:

Average monthly savings: $882
From September 2012-August 2013: $10,548 in savings
From September  2011-August 2012: $10,615 in savings
Average nation-wide:

Average monthly savings: $825
From September 2012-August 2013: $9,935 in savings
From September  2011-August 2012: $9,867 in savings
The analysis bolsters findings from the Center for Neighborhood Technology which has shown the importance in connecting housing and transportation costs to better understand neighborhood affordability. CNT's H+T Index makes clear that when transportation costs are included into determining housing affordability, some "inexpensive" areas become considerably more costly to live in, while some "expensive" areas that have access to public transportation become more affordable.
According to APTA's data, between September 2012 and August 2013 New York City residents taking public transit instead of driving saved an average of $1,224 per month. However, these savings may shrink if the MTA continues to raise fares.
APTA's calculations are based on the cost of commuting by public transportation (the cost of a monthly transit pass), the cost of owning and driving a vehicle (which is from the AAA's cost of driving formula and includes gas, maintenance, license and registration fees), as well as gas prices and the unreserved monthly parking rate.
To find out your potential transportation cost savings, visit APTA's website and play with their calculator.