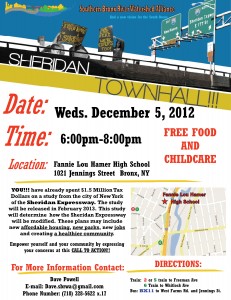 On Wednesday, the Southern Bronx River Watershed Alliance (SBRWA) will host a town hall meeting at the Fannie Lou Hamer Freedom High School in the South Bronx to discuss the status of the New York City multi-agency Sheridan Expressway-Hunts Point study. The discussion will include a recap of SBRWA's recent efforts to ensure the community's voice is heard by the City, SBRWA's ideas for specific improvements for the area and how community residents can get involved in the process.
SBRWA will show a brief presentation on the effort, which will be followed by guided breakout sessions for residents and participants to ask questions about and discuss the project.
Come out and join us!
Where: Fannie Lou Hamer Freedom High School, 1021 Jennings Avenue, Bronx, NY
When: Wednesday, December 5, 2012, 6:00 to 8:00 pm
Free food, childcare and Spanish translation provided.
Tri-State Transportation Campaign is a member of SBRWA along with Nos Quedamos, Mothers on the Move, The Point CDC, The Pratt Center for Community Development, Sustainable South Bronx, and Youth Ministries for Peace and Justice.
The flier is available in English and Spanish.