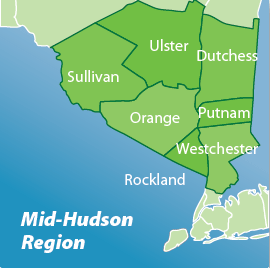 The Mid-Hudson Sustainability Planning Consortium has kicked off an ambitious smart growth planning process to help reduce greenhouse gas emissions in the region, and the community's got a chance to get involved.
A public meeting about the process, dubbed the Mid-Hudson Regional Sustainability Plan, will be held at 6:30pm on Monday, July 30th, and is open to everyone [click here for an invitation]. A website has also been launched to encourage dialogue on the subject.
As part of the Greener, Cleaner Communities Program, each of New York State's 10 economic development regions is creating a plan to help achieve Governor Cuomo's goal of reducing greenhouse gas emissions to 80 percent below 1990 levels by the year 2050. Statewide, there will be up to $90 million available, via competitive grants, to fund projects identified in the different regions' plans.
Despite the promise of funding for projects that come out of the planning process, achieving a Mid-Hudson consensus will take hard work. An aggressive schedule has been set—the plan needs to be delivered by the end of December—and the Mid-Hudson plan covers a sprawling, seven-county region with urban, suburban, and rural issues to contend with (the area includes Westchester, Rockland, Orange, Ulster, Putnam, Sullivan, and Dutchess counties).
Tri-State's Nadine Lemmon is co-chairing the transportation, land-use, and livable communities working group. Additional working groups, headed up by a broad representation of experts from the public and private sectors in the region, will address the myriad other issues related to Mid-Hudson sustainability: energy, waste management, water management, economic development, agriculture and foodsheds, and governance.
The first public meeting will be held on July 30th at SUNY Orange's Newburgh Campus, in "The Great Room" at Kaplan Hall, from 6:30-8:30 pm. Doors will open at 6:00 for refreshments.