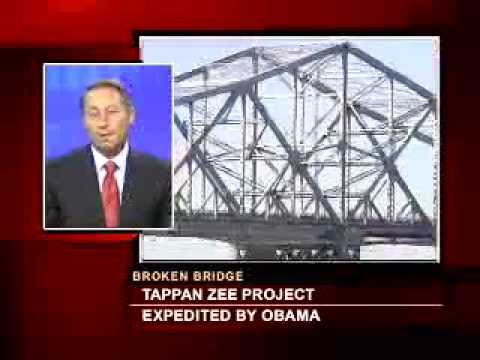 Local elected officials on both sides of the Tappan Zee Bridge are speaking up for transit after Governor Cuomo's announcement that the bridge replacement project is moving forward without plans for bus rapid transit or commuter rail. Over the ten-year study period, NYSDOT held multiple meetings with local and state elected officials to solicit feedback and share updates on the Tappan Zee Bridge/I-287 Corridor project. Representing communities frustrated with traffic congestion, limited transit, and dwindling economic growth, key officials saw the potential for mass transit to spur an economically robust and solid corridor. But without transit, many worry these concerns will not be addressed.
Westchester County Executive Rob Astorino said on YNN's Capital Tonight that "My concern is that they're going to replace a 1955 bridge with another 1955 bridge, and that won't do anything to solve the problem. Bus rapid transit, or mass transit, has got to be a part of this new bridge to alleviate some of the concerns that everyone has in this region."
"If we're going to fix the problem, fix the problem. Don't spend $5 or $6 billion… and end up with the same exact problem the minute the bridge opens." Astorino called for both rail and bus rapid transit, which he noted meant "dedicated lanes on the bridge, and then off the bridge — otherwise, you're going to have buses full of commuters that are just stuck in traffic."
As MTR noted this morning, a cross-corridor BRT system is projected to carry 50,000 daily bus riders, addressing issues of traffic congestion and lost economic productivity. Rockland County Executive C. Scott Vanderhoef expressed his concerns with the plan in the Journal News saying, "You can't just throw a bridge down there and say we'll build the rest of it later."
The strong support for transit by the Republican county executives is evidence of the broad consensus that has been reached over the life of the project study, which makes it all the more surprising that the decade-long process has to start afresh. The project changes have caught many off guard.  Drew Fixell, Mayor of Tarrytown, told the Journal News,  "This really was surprising. All of a sudden, everything changed."
Video: Capital Tonight.