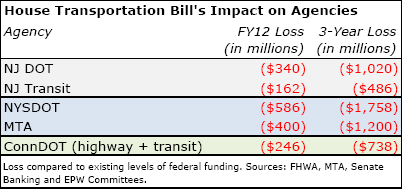 Earlier this month, House Transportation & Infrastructure Committee Chair John Mica unveiled an outline for a 6-year federal transportation bill that would cut funding levels by about a third from existing levels, costing the region tens of thousands of jobs. Here's a closer look at the impact.
New Jersey
Rep. John Mica's proposal would cost the state 18,000 jobs in the first year alone, and about $1.5 billion in federal funds over three years. This could send NJ's barely solvent Transportation Trust Fund into arrest.
To date, Governor Christie and the State Legislature have failed to pass a long-term funding solution that keeps the state's Transportation Trust Fund solvent, relying instead on diverting at least $343 million in Port Authority funds each year for the next 5 years. As TSTC Executive Director Kate Slevin said in a release, "New Jersey's transportation budget is already a patchwork quilt — and the state doesn't have any patches left that can close a 30% cut in federal transportation funding."
TSTC's analysis of NJDOT's Fiscal Year 2012 Capital Plan found that:
New York
The MTA's precariously balanced plan to fully fund the last three years of its capital program (2012-2014) assumes that federal transportation funding will remain at existing levels. MTA officials told MTR that the cuts suggested in the House bill would cost the agency about $1.2 billion over three years. That's roughly equivalent to:
Canceling all Metro-North maintenance and improvement work in 2012, 2013, and 2014 ($1 billion)
Canceling all NYC subway station renewal, rehabilitation, and disabled accessibility work for 2012-2014 ($1.27 billion). This includes major work at 19 stations in the Bronx, Brooklyn, Manhattan, and Queens; relatively minor work at 25 stations, and "component work" and painting across the system.
Cancelling a project to untangle the LIRR's tracks at Jamaica Station ($360 million) and indefinitely delaying the East Side Access project to bring the LIRR to Grand Central by putting off half the work planned for 2012-14 ($886 million).
It's difficult to determine the exact impact the bill would have on NYSDOT, as the agency doesn't have a capital program beyond summer 2012. But its existing $7 billion, two-year capital program for 2010-2012 is extremely constrained. Federal aid represents almost half the plan. At current levels of spending, the state's road and bridge conditions are going backwards, and upstate transit systems are struggling. A three-year cut of $1.7 billion going forward would put enormous strain on the state's infrastructure.
Connecticut
The House proposal is especially bad news for Connecticut's transportation projects, which greatly rely on federal support. In fact, 64.4% of ConnDOT's 2010-2014 capital plan counts on federal support. Over the 3 remaining years of ConnDOT's capital plan, the state faces a possible loss of $738 million in federal support.
In a sobering letter sent to USDOT last year, ConnDOT's Acting Commissioner James Redeker said, "The reality is that we have a tremendous challenge in Connecticut… There will simply not be enough money to address all the 'have-to-do' projects in the State.  You will see that we have $4 billion in 'unfunded' initiatives in our Highway/Bridge and Public Transit program."  Redeker goes on to explain, "The fundamental reason for this is that we have several significant (Mega) projects that will absorb a majority of federal and State funding, which severely limits the funding remaining for not only much needed preservation requirements, but potential upgrade and expansion projects as well."
These constraints will be even tighter if the House's plan is passed — especially if the state can't come to a cost-saving agreement with its employees. In that case, it would have to live with its "Plan B" budget, which cuts the Special Transportation Fund by $225 million over two years.
Renata Silberblatt contributed to this story.
Image: TSTC.