Environment New Jersey, Audubon New Jersey, NJ Environmental Federation and 25 other groups gathered in Trenton this week to fight two proposals that are fatal to NJ's economy and environmental health: pulling out of RGGI and a rule that could exempt the Department of Environmental Protection and other agencies from strict compliance with existing environmental rules. Both proposals are initiatives of Governor Christie.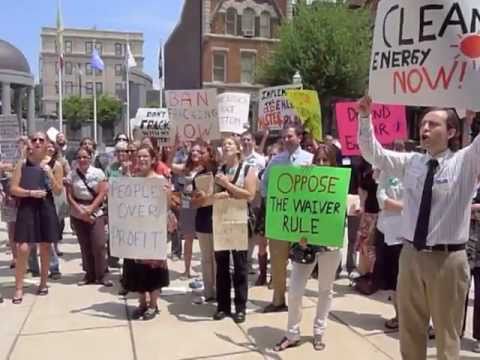 In May, Governor Christie announced his intention to pull out of the Regional Greenhouse Gas Initiative ("RGGI"), the nation's first market-based program to reduce global warming pollution, by year's end. Through RGGI, New Jersey and nine other Northeastern states agreed to set a cap on region-wide power plant pollution and require polluters to pay for their emissions. Ten percent of the state's proceeds from RGGI were slated to help already financially strapped municipalities; this aid can be used for programs that improve energy efficiency, promote renewable or distributed energy, and the planning of sustainable land use, transit-oriented development and transportation projects that reduce carbon emission of energy use.
Though the Governor can pull out of RGGI without Legislative approval, powerful Democrats in the State Legislature are pushing bills (A4108, S2946) which would require NJ's participation in the program, and Legislative approval to withdraw.  The companion bill was reported favorably out of the Senate Environment and Energy Committee and is set to be voted on in the Senate on Monday.
The other Christie Administration proposal, known as the "DEP Waiver Rule," could weaken environmental protections by allowing DEP to waive rules when there is a "conflict" with other rules, where strict compliance is "unduly burdensome," when there is a "net environmental benefit," or when there is a "public emergency" so long as the waiver would "not be inconsistent with the core missions of the agency." Environmental advocates argue that adoption of this Rule could lead to road widening and other construction in environmentally sensitive and protected areas with little to no consideration of DEP regulations. In addition, adoption of this Rule has the potential to inject politics and cronyism into an agency whose sole mission is to protect the environment of New Jersey for current and future generations.
The proposal could also be illegal. This is a broad grant of authority to the DEP that neither the Governor nor NJ DEP possess. Agencies are created and granted authority to act by laws enacted by the Legislature. In these laws, the Legislature defines the circumstances around which the DEP may waive the state's environmental protections. By expanding the DEP's power far beyond what the Legislature ever intended or allows in any statute, the Rule is an illegal attempt to transfer legislative power away from the Legislature.  The Rule also asks the DEP to determine when the financial burden in complying with regulations outweighs the environmental benefit – an area in which DEP has no expertise and is not allowed to act.
These proposals, and other recent anti-environmental initiatives, are the last straw for environmental groups previously supportive of the Governor, including NJ Environmental Federation.
"We were willing to give the governor some wiggle room because of the commitments he made,"  Dave Pringle, a lobbyist for the federation told the Wall Street Journal recently. "He is now failing the litmus test of making a good-faith effort to implement those commitments."