A new report from Transportation For America and the Surface Transportation Policy Partnership, Dangerous by Design, finds that pedestrians continue to suffer from alarmingly high fatality rates in much of the country, even as walking rates have declined.  In the tri-state area, relatively high rates of walking mean that pedestrians make up an above-average share of traffic deaths — but pedestrian safety is not getting a commensurate share of federal funds.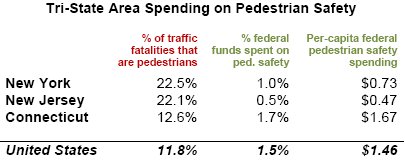 While all three states have made recent strides in addressing pedestrian safety, the low rates of spending of federal dollars (see graph at right) shows that there is clearly room for improvement.
The disparity between fatalities and spending is particularly egregious in New Jersey and New York, which rank at the top of the list in both the overall fatality rate and the share of total fatalities that are pedestrians.  In Connecticut's cities, pedestrian safety has become increasingly recognized as a top concern of residents, especially in the wake of the five pedestrian fatalities and near-fatalities in the last two weeks.
Transportation, planning, and disability advocates in New Jersey and New York responded to the report by calling for passage of complete streets legislation that would require that roads accommodate all users. In Connecticut, where complete streets legislation was passed earlier this year, advocates said the law should be improved by designating portions of certain federal grants to safety programs.
"With all three states facing serious transportation budget shortfalls, it is critical that states make the most of available federal dollars to protect the most vulnerable residents — pedestrians and bicyclists," said Tri-State's federal advocate, Ya-Ting Liu. (Ya-Ting is also the New York field coordinator for T4America.)
Major metropolitan areas in the tri-state region rank fairly well by the report's primary metric, the Pedestrian Danger Index, which examines the risk to pedestrians relative to the rate of walking. The ten most dangerous metropolitan areas for pedestrians are southern cities built around the car, and the four most dangerous cities for walking are all in Florida.
The report was co-authored by Tri-State's Michelle Ernst, and is an update of the popular STPP publication, Mean Streets.  The full report, as well as state-by-state fact sheets and other materials can be found on T4America's website.
Image: TSTC graph using data from T4America.